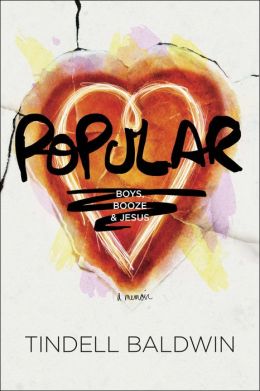 Okay, you might have been a little taken aback at the title, as was I! But after reading a short article from the book's author, Tindell Baldwin, I was truly intrigued by her story...
Popular: Boys, Booze, and Jesus
is a memoir following through the teen and early college years of Tindell Baldwin (at the time, Tindell Stanfill--the sister of Christian artist Kristian Stanifill). It is a story that begins in the depths of pain and darkness that appears to have no end. When all hope seems lost, Tindell finds herself at the foot of the cross, her choice to surrender or die. To choose the light of Christ, or the blackness of eternal separation.
Tindell grew up in a Christian family. She had loving parents, three fun brothers, and a good life. But it wasn't enough for her. She decided that she didn't want the life of rules that her parents had for her--she'd rather have some real fun and join the "popular" crowd. She even wrote God a letter telling Him, "Good-bye."
Throughout her journey, she found herself taking one compromise after the other. It started with one drink. Then it wasn't enough, so she had another. Then that wasn't enough either...
Popular
tells Tindell's painfully honest story. The story that she longs for every teenage girl to hear--that they might learn from her mistakes, and learn of the breathtaking value and beauty that they can find in Jesus.
"Next time some guy grabs you and gives you a sly wink, give him two pieces of a tree, three nails, a hammer, and a crown of thorns and tell him to prove it--prove that he can pay the price that it takes to get your heart."
I must say that I truly enjoyed this book--the prose was beautiful, the honesty refreshing, and her redemption inspiring. I found myself mentally noting quotes from the book (like the one above); such raw words, with such powerful truth! I especially loved the chapter that she talked about her mom and dad. Such humility and honor.
The words that she had for young women were all so true, such refreshing words that need to be heard. Reminders of the worth and love that they can find in Jesus, and encouragement to find grace in Him, no matter where they have been. Proof that God can turn ashes of our bad choices into the beauty of His grace...if we are willing to ask Him and surrender.
I will say, however, that this book is not for everyone. The topics of alcohol, drugs and especially sex are heavy in this book--as is understandable. There are no technical details, but specifically with the topic of sex, there was much mention and discussion on proper context. There was also a tinge of slightly more coarse language in the text (example: words like "sucked"), and dashed out profanity.
I would advise caution for a parent giving this book to their Christian daughter under the age of 18 unless they are struggling with these issues personally. I will say though, that the encouragement that she had to offer was such a blessing to me personally, I do believe that it's a message that every girl needs to hear--but just at the right time. My suggestion would be for a parent to read over it first to evaluate whether it is right for their daughter.
I would highly recommend this book if you know of a young lady that is currently struggling with the issues mentioned above. Tindell provides such beautiful insight, her tone so sisterly, it is the perfect resource for a lost young lady in search of love and acceptance, shedding light on the truth of the Gospel and reaching her where she is.
See the book on Amazon
HERE
.
I received a complementary copy of this book from Tyndale House Publishers in exchange for an honest review.